Announcing your pregnancy is a major milestone for any expectant mother. There are many fun and creative ways to do this including baking and decorating baby announcement cookies. If you've got something important to say, why not say it with cookies!
I've been on a cookie and cake decorating kick for about a year so it made perfect sense to make my Facebook announcement with an arrangement of cookies. But you could also do this for a baby shower or serve these to family, friends or co-workers when you choose to make your announcement.
In the following tutorial you'll learn how to make and decorate teddy bear and onesie cookies for your announcement. I still consider myself to be a beginner when it comes to cookie decorating so even if this is your first time decorating cookies you shouldn't have a problem with these designs.
Materials for Decorating Baby Cookies
To make your baby announcement cookies you will need the following:
One batch of your favorite sugar cookie recipe (tip: roll out the dough to 1/4 inch thickness and then pop into the freezer for 15 minutes before cutting, then pop the cut-out shapes back into the freezer – baking sheet and all – for another 15 minutes before baking)
Disposable decorating bags and couplers
Decorating tips #1 and #2
Wilton Gel Colors (I used teal, brown, black, pink, and no-taste red)
Edible food markers such as this set
Heart cookie cutter
Toothpicks or scribe tool
Royal Icing (recipe)
Coloring Your Royal Icing
The recipe for royal icing linked above will give you approximately 2.5 cups of stiff consistency icing. You will need to divide this recipe, mix your colors and then thin according to your needs.
For the white writing icing, I would leave this as stiff so you can achieve detailed letters. I made the mistake of thinning to medium consistency and my numbers flowed too much. I had to cheat a little and fill in my 0's and 6's with purple icing.
For the remaining colors I would thin to 15-second consistency. To achieve this add water a little at a time and then test with a stopwatch. Use a toothpick or palette knife to draw a line in the icing. When the line takes 15 seconds to disappear you have achieved 15-second icing.
Deciding how to divide the icing for coloring takes a little bit of guess-work and will depend on how many cookies you are making. You may need to make a second batch of royal icing if you are doing a lot.
Decorating Your Baby Announcement Cookies
To start with I think it's always a good idea to sketch your idea so you can try out different ideas without wasting icing or ruining cookies. I traced my cookies onto a sheet of white paper and did a few basic sketches.
I tried out two different ideas with the teddy bears, one with a bigger heart and one with a smaller heart but no writing. I decided to stick with the bigger heart but it could also be fun to do some of both.
You can see my original intention with the onesie but I quickly found out that this much detail didn't translate well onto the cookie so I simplified my design. Sometimes you just need to go with the flow.
Teddy Bear Baby Cookies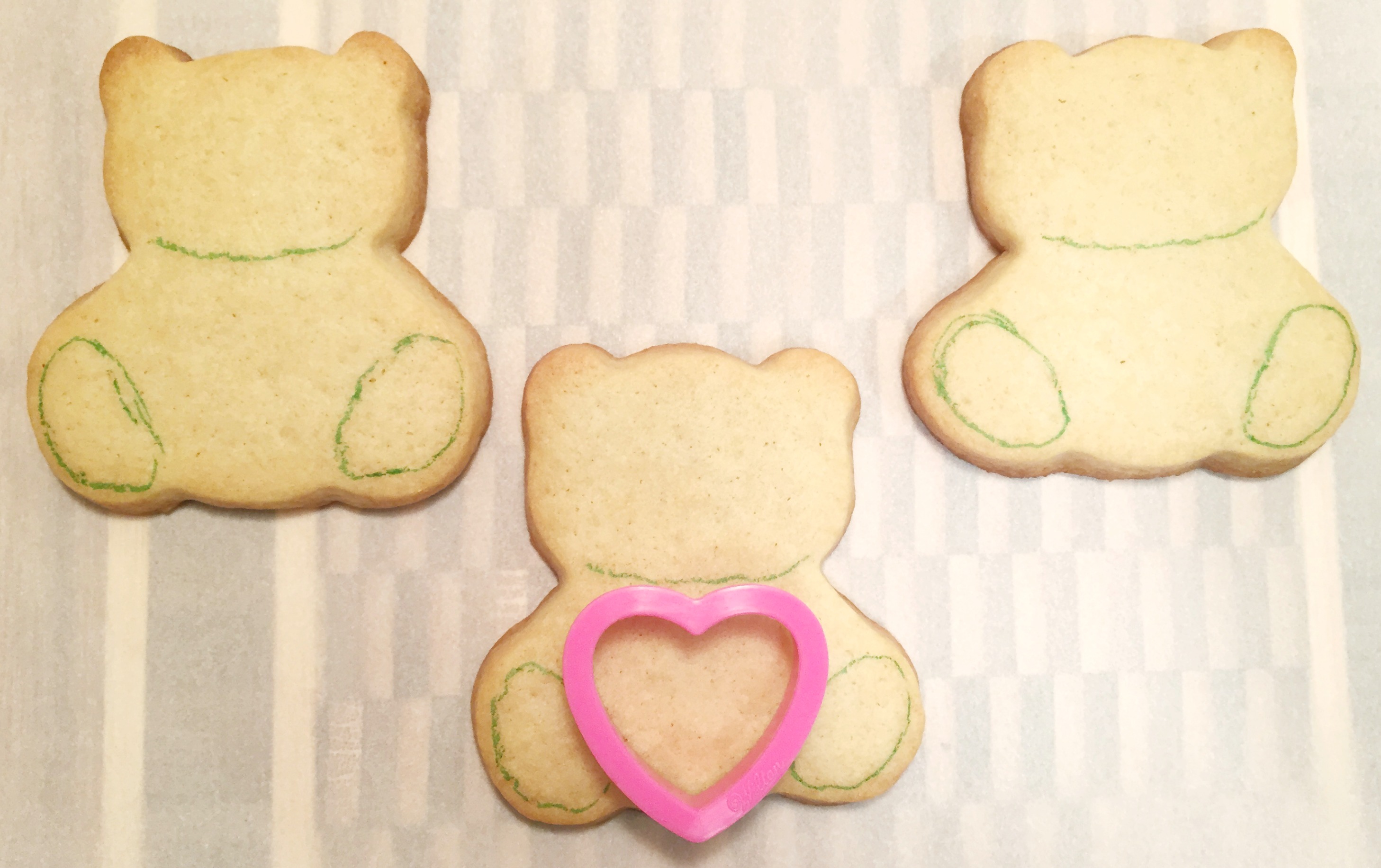 One thing you want to make sure of is that you leave enough room for your heart. Choose a heart cutter that fits your cookie well and make a rough outline with an edible food marker for the chin and the feet.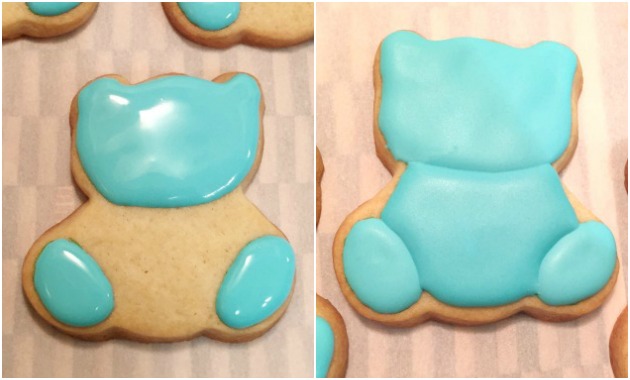 If you want some definition between the face, body and feet then it's important to apply the icing in two stages. First, using a #2 tip apply the teal icing to the head taking care not to go too close to the edges and even out with your toothpick or scribe tool. Then apply the icing to the feet. Wait an hour or two before applying the icing to the body. Use toothpicks or scribe tool to ensure the icing flows to the chin and feet.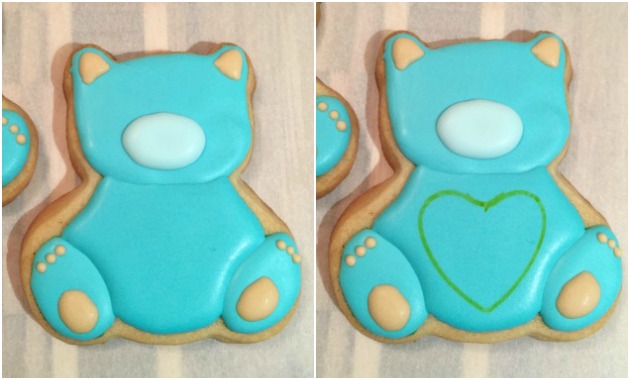 Once the icing is set you can add some details. Work from the top down so you don't accidentally rub your wet icing. First use tan icing, with a #2 tip, for the ears. Then add a lighter teal snout (also with a #2 tip). Finish off with the feet.
Once these accent details have had time to dry, take your heart cookie cutter and trace the heart with an edible food marker.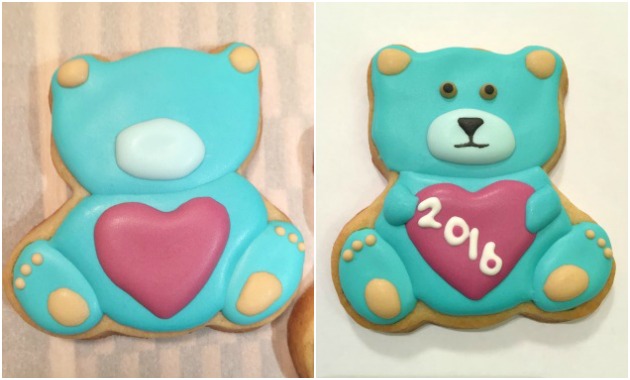 Working again from the top down you can add in more details for the bear. For the eyes, nose and mouth you will want to switch to a #1 tip. Add a dot of tan for the eyeballs and then right away add a smaller dot of black. Because you added the black while the tan was still wet it will sink in nicely. Add a black line for the nose and shape into an upside down triangle with a toothpick or scribe tool. Use this tool to shape the mouth. Fill in the heart with magenta icing using a #2 tip. (You'll notice I did the heart first, waited for this to dry and then did the face details. You can save time by working from the top down and doing this all at once).
Once the heart has had a chance to dry you can add your writing using stiff white icing and a #1 tip. Practice this on parchment paper first before you try it on the cookie. Allow the writing to dry and then add in the hands using a #2 tip.
Allow your cookies to dry fully (10 – 12 hours) and then store in tupperware containers layered with parchment paper.
Onesie Baby Announcement Cookies
Onesie cookies are another cute idea for baby announcement cookies. There are so many adorable was you can decorate them including solid colors, polka dots, stripes and animal prints. I'm a huge fan of leopard print so of course I went with leopard onesies. There are a few changes I would make to how I did these but I will show you what I did.
Leopard print is achieved using the wet-on-wet icing technique. I used 10-second icing for these cookies and that was too wet. It made the icing a little too hard to control and therefore my spots are larger than I would have liked. I would recommend using 15- or 20-second icing for leopard print. I chose to do classic colors with tan, brown and black but you can do any color scheme you like.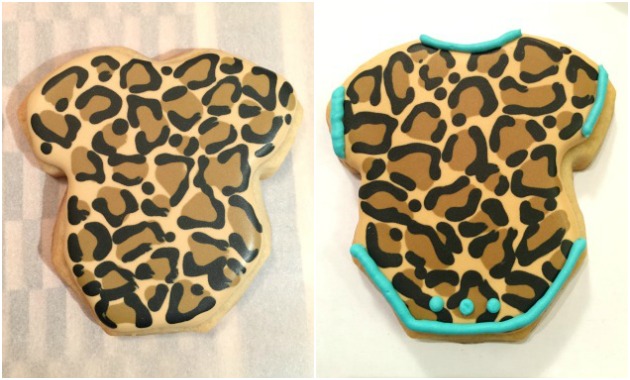 First outline and then fill in your cookie with tan icing using a #2 tip. Smooth out your icing with a scribe tool or toothpick. Take care not to go too close to the edge or your icing may spill over. As soon as this is done add random brown spots using a #2 tip. Add broken black outlines to your brown spots using a #1 tip.
As you can see I chose to wait until the icing was dry before adding my teal accents. I also used a #3 tip which I think was a little large. Next time I will use a #2 tip and add the teal while the icing is still wet. Then I may add some additional teal accents with a #1 tip when that is dry.
For a video demonstration of leopard check out this post by SweetAmbs.
Now you can arrange your baby announcement cookies on a platter and enjoy!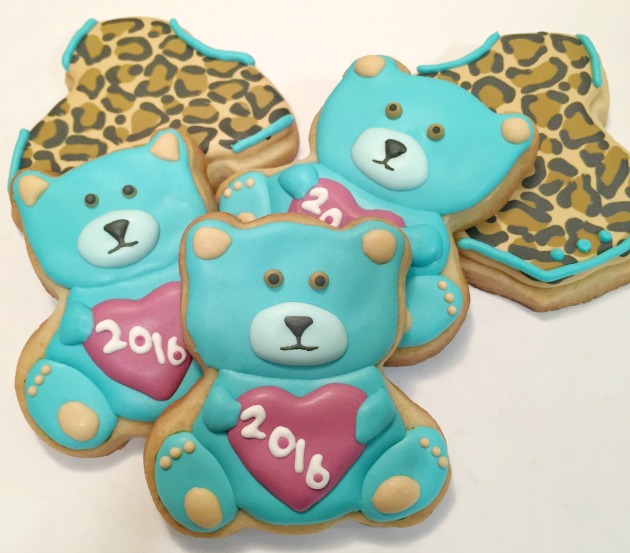 Images: All photos by Isle of Baby