If you are planning baby shower activities then a great idea is to set up a table so you and the guests can design your own onesie. This is a really special gift that the expecting parents will cherish as their baby grows. They will receive lots of beautiful baby clothing but onesies that have been hand painted with love by their friends and family are truly special.
The 'decorate a onesie' station can be set up in advance and the guests can take turns designing onesies while other party games are happening at the same time. This way you don't have to worry about buying huge amounts of supplies and you don't have to have a table large enough to fit all the guests at once.
In this article we'll look at choosing the right sizes and styles of onesies as well as explore two techniques for designing baby bodysuits.
Choosing Onesies
The first thing you need, of course, are the blank onesies. White onesies are perfect for decorating but if you want you can also add some colored ones too. If you know the gender of the baby then you can order pink, purple, light green and yellow for a little girl or blue, yellow, brown, red or green for a boy. If you're not sure about the baby's gender then you can stick to neutral colors including yellow, green and beige.
Buying a variety of sizes is a wonderful idea. Onesie bodysuits are available in many sizes from 'newborn' through 24 months so buy a few packs of different sized onesies. This way there will be a special onesie during each phase of growth rather then only having them when the baby is a newborn. In fact, babies only fit 'newborn' sizes for such a short period of time (and some are born larger than a standard 'newborn' size) that you may want to skip the newborn sizes altogether and start with 3 month or 6 month sizes instead.
Will the baby be born in summer, winter, spring or fall? For cooler months you'll want to buy long sleeved onesies and short sleeved onesies for the warmer months. If you're buying a variety of sizes then try to take this into account when ordering.
You'll want to order enough for each guest to design a bodysuit plus a few extra. If possible you may want to leave a few blank onesies and the painting supplies with the expecting parents for a little while so they get the opportunity to decorate some onesies. The mom-to-be may be too tired or too busy speaking with guests at the party to get a chance to decorate. Also, if the parents are keeping the baby's name a secret until the birth then this will give them some privacy to decorate a onesie with their baby's name.
Set of Four Long Sleeve White Onesies
Set of Five Short Sleeve White Onesies
Carter's bodysuits are a great choice because they are great quality and run true to size. They are made from soft cotton and are machine washable. They have lap-style shoulders which makes putting them on and taking them off an easy job and they have nickel-free snaps for easy diaper access.
One thing to consider about Carter's sizes though is that the size means 'up to' that age. For example, the 3 month size would be for babies up to 3 months so '0 – 3 months' and the 12 months size would be comparable to a '9 – 12 month' size.
Design Your Own Onesie with Fabric Markers and Stencils
One of the easiest (and least messy) ways to decorate a onesie is with fabric markers. They work well with cotton or polyester and you can either draw freehand or use with a variety of stencils.
After the designs are complete they need to be heat set. Either turn the onesies inside out and iron for 4 – 5 minutes or toss them in the dryer on high heat for 30 minutes. Then you can wash the onesies and the colors won't come out.


The Crayola brand fabric markers have excellent customer reviews. The colors are bright and do not run. One customer even bleached her piece of work and the bleaching did not affect the colors made by the fabric markers.
There is a wonderful variety of stencils available for your project. There are stencil books with patterns for butterflies, wild flowers, animals, marine life, bugs, dragons and dinosaurs. Any of these would be perfect for creating cute baby onesies at the baby shower.
Decorate a Onesie with Fabric Paint and Rubber Stamps
Another option with gorgeous results is to design your own onesie with fabric paint. As with the fabric markers you can draw freehand with the use of paint brushes. But you can also create really beautiful designs by using rubber stamps.
When using fabric paint and rubber stamps less is truly more. If you just dip the stamps into a pool of paint then the design won't be crisp. I highly recommend applying the paint to the rubber stamp with a paint brush. If you work quickly enough you can apply more than one color to the stamp as well if desired.
Because fabric paint can bleed through the fabric you may want to insert one or two sheets of paper towel into the middle of the bodysuit so the design on the front doesn't leak through onto the back and vice versa. Allow the design to thoroughly dry before flipping the onesie over to decorate the other side. 
Martha Stewart Crafts – Satin Paints, 18 pack
Mini Alphabet Rubber Stamp Set
The Martha Stewart Crafts satin finish paints are an excellent assortment of colors that are perfect for fabric. But they can also be used on a large variety of surfaces, including glass and pottery, so you can use these paints for other crafts long after the baby shower.
In addition to cute animal stamps you may want to get a set of letters so guests can write messages or well wishes onto the onesies.
There are so many cute stamp sets that would be perfect for a baby shower. The three sets shown above are really cute options for baby onesies but there are many other adorable sets to choose from including hearts, animal footprints and holiday themes too.
Caring For Hand Painted Onesies
Now that the expectant parents have an assortment of beautiful hand painted onesies no doubt they will want them to last as long as possible. One of the best ways to keep them looking fresh is to turn them inside out for washing. It's also a good idea to do up the snaps for washing as well so the machine doesn't snag them and cause the material to stretch or tear. To prevent shrinkage it's best to tumble dry on low or medium. Alternatively they can be tumbled dry on high until they are still a bit damp and then hung to dry the rest of the way.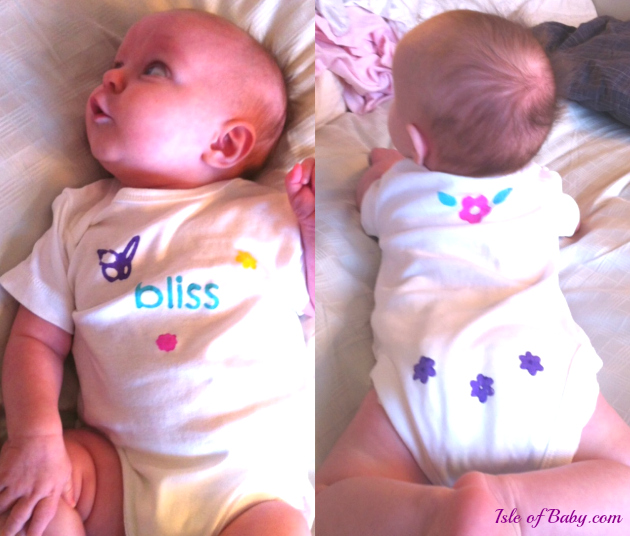 Featured Image: Baby Onesies, Public Domain Image from Pixabay
'Bliss' Onesie Image: Isle of Baby, created with fabric paint and rubber stamps