It's almost the New Year and it's time to think about what you will dress your little one in for the big day. Even though they won't be up to count down to midnight, Happy New Year baby clothes are a fun idea to help celebrate and bring in the New Year.
If this is your child's first time celebrating the New Year then you may like one of the 'Baby's First New Year' bodysuits. You may also like one of the many cute and funny New Year designs for babies and toddlers.
The selection of funny shirts are available from Zazzle, a print-on-demand company. The great thing about print-on-demand is that you have more options to choose from. You can customize the designs with additional images or personalize it with your baby's name.
If you find a Zazzle design you like then you can select that design on the item of clothing of your choice such as a short or long-sleeve cotton t-shirt, a cotton bodysuit or an organic cotton bodysuit. Many of the styles come with a choice of fabric color. So play around a little and you may discover the perfect New Year outfit for your baby or toddler.
Baby's First New Year Bodysuits
Baby's First New Year Tutu Bodysuit – Black, Pink or White
This New Year bodysuit with built-in tutu is a cute option for baby girls. Decorated with party hats, a clock pointing to twelve and confetti, this bodysuit reads 'Baby's First New Year'. This short sleeved onesie is available in black, raspberry or white and the little tutu makes the bodysuit a little dressier for the occasion.
Available in Newborn, 6 month, 12 month, 18 month and 24 month sizes. Do pay attention to the sizing when ordering. The newborn size is only for babies up to 7 pounds so if your new little baby is over 7 pounds then you will need to order the 6 month size which will accommodate babies 7 – 17 pounds.
Baby's First New Year Long Sleeve Bodysuit – 7 Colors
With the same cute New Year design as the tutu bodysuit shown above, this long sleeve onesie is perfect for both baby boys and baby girls. This option will be warmer for babies since it has long sleeves but if you'd rather there are a few short sleeved options that come with coordinating bibs. This style is available in seven colors: black, heather gray, light blue, pink, raspberry, white and red (shown).
Available in newborn, 6 month, 12 month, 18 month and 24 month sizes. As mentioned with the item above, do read the suggested weight range for each size located on the Amazon description page. This will help you choose the correct size for your growing baby.
Cute & Funny Happy New Year Baby Clothes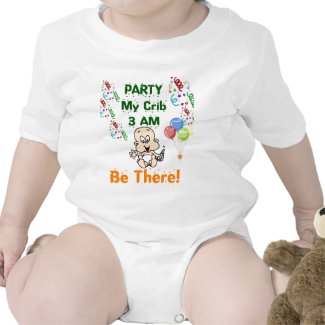 Funny New Year's Eve Party Baby Bodysuit

Have you ever wondered what babies get up to after you have put them down to sleep for the night? Well this bodysuit says it all, "Party, My Crib, 3AM, Be There!" This design will be sure to get a few chuckles. This bodysuit can be ordered in your choice of color: Grey, Blue, Pink and White. Available in 6 month, 12 month, 18 month and 24 month sizes.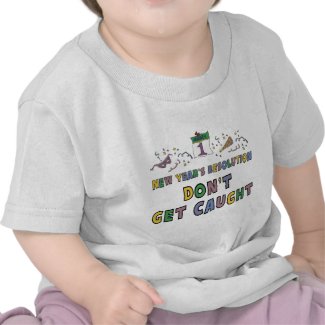 Cute New Year's Resolution Baby T-Shirt

This hilarious New Year's t-shirt pretty much sums up any baby or toddler's game plan: "New Years Resolution: Don't Get Caught". This t-shirt comes with a choice of five colors – gray, white, blue, pink or yellow – and is available in 6 month, 12 month, 18 month and 24 month sizes. If you prefer you could also order the same design on a bodysuit instead.
Happy New Year Baby Bodysuit – Organic Cotton

This beautiful design features two baby bottles being uncorked like champagne bottles with a cascade of purple and red hearts and the caption 'Happy New Year!' This design is shown above on an organic cotton bodysuit but you could also order it on a non-organic cotton bodysuit with a choice of colors or on a baby t-shirt. Available in 6 month, 12 month, 18 month and 24 month sizes.
Happy New Year 2014 Baby Pacifier
Happy New Year 2014 Countdown Baby Pacifier

You baby can celebrate with a Happy New Year pacifier. This odometer design shows 2013 on its way out and 2014 on its way in. This pacifier has an orthodontic nipple and is available in two sizes: 0 – 6 months and 6+ months. Available in three colors: blue, pink or white (shown). There is just enough room below the design to personalize it with your baby's name.
Featured Image: New Year's 2014, Public Domain Image from Pixabay