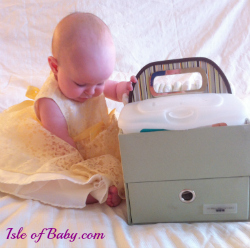 The JJ Cole diaper organizer is an excellent place to store your baby's diapering essentials. This unit saves a lot of space and has a place for all the important things including diapers, wipes, creams and other small baby items.
One of the best things about this caddy is that it is designed to be used one-handed. You can easily carry it from room to room, unfold and re-fold the change pad and access the drawer all while holding your baby.
I've been using the JJ Cole diaper organizer for two and a half years and I also love giving it as a gift. Let's take a closer look at why this unit is so great.
Reasons to Buy the JJ Cole Diaper Organizer
The JJ Cole diaper caddy is an excellent tool for keeping all your diaper changing gear organized. But there are also specific situations where it is very helpful.
Takes Up Less Space Than a Change Table. For those of us living in apartments and condominiums there often just isn't enough room to have a dedicated changing table for your baby. The JJ Cole diaper and wipes caddy is an excellent alternative that takes up very little room. Just pull it out when in use and tuck it away when finished.
Multi-floor Household. If you live in a house or townhouse with multiple floors it isn't practical to take your baby up to the nursery for every diaper change. You need to be able to change your baby's diaper wherever you are, especially when it's an emergency (and in the first few months there are plenty of those). The JJ Cole diaper organizer can act like a 'satellite diaper station' moving from room to room or floor to floor wherever you are. You can keep the bulk of your supplies stored in your change table in the nursery and keep on hand what you need for use during the day.
For Road Trips. If you make frequent weekend trips to Grandma and Grampa's house then the JJ Cole diaper caddy makes an excellent travel companion. Toss it in the car and it's one less thing to have to worry about.
Features of the JJ Cole Diaper and Wipes Caddy
This caddy is designed for compact functionality and can be easily customized according to your needs.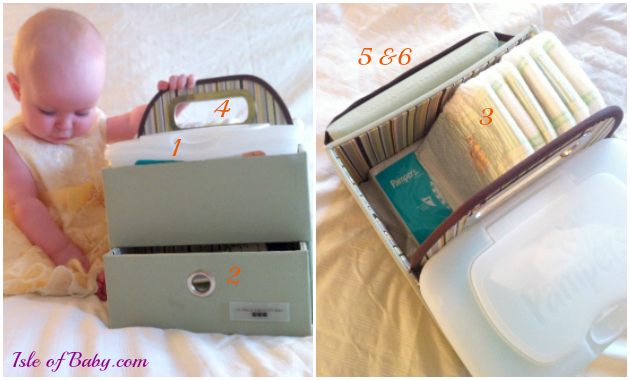 Top Shelf – The ideal spot for a full size wipes dispenser. Both the Huggies and Pampers wipes boxes will fit here although it is a tighter fit for the Pampers box (which is slightly larger).
Front Drawer – Tuck away your creams, nail clippers, spare pacifiers and any other small baby items you want easy access to. For travel you could even fit a few extra diapers in this drawer. There is a small hole in the front so you can open the drawer with one finger.
Back Shelf – This deep shelf is a great place to store diapers, a bottle of lotion or spare clothing. If just housing diapers you can fit approximately 16 – 18 diapers (I've just counted mine and it's currently holding 17 diapers including three size 5 Pampers Baby Dry and fourteen 2T-3T Pull-Ups). If you keep a replacement pack of wipes underneath the diapers then you never have to worry about running out.
Handle – The metal reinforced handle makes it really easy to carry the diaper organizer from room to room.
Back Pocket – The changing pad folds up and tucks away neatly in its own little pocket.
Changing Pad – The change pad is large enough to accommodate a toddler, 28″ x 17.5″ (71 x 45cm), and can be folded up with one hand. A Velcro strip helps keep it closed.
The JJ Cole Diaper Caddy Changing Pad
I'd like to devote a section to the change pad because this is the one area with mixed reviews. If you read the comments on Amazon the one common theme is that this is an excellent changing station but some parents weren't thrilled with the change pad because of its design.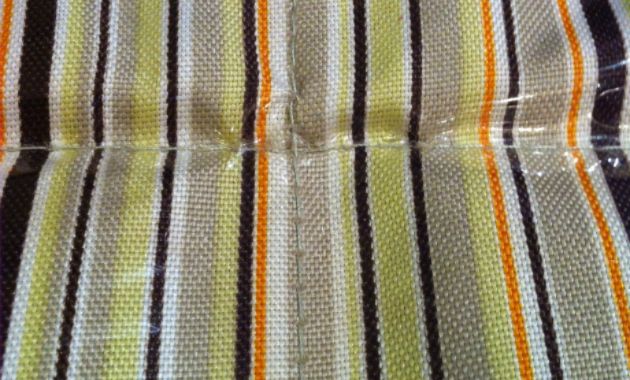 The change pad consists of a fabric layer with a wipeable plastic layer stitched on top. The stitching runs through both layers. The advantage of constructing the change pad this way is that both layers are kept together nicely and the changing pad folds along the seams which makes it really easy to do one handed (especially convenient for those with babies who don't like to be set down). The disadvantage is the potential for leakage. If your baby pees it could possibly leak through the seams.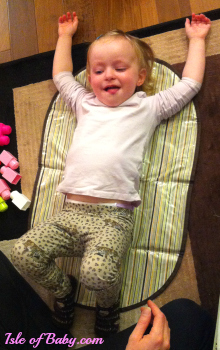 There are a few things you can do to prevent leakage. First, try to help prevent accidents. Use a pee-pee tee-pee with boys and place the new diaper underneath the old diaper first to minimize the chances of leakage. Second, if your baby does pee on the change pad then the faster you wipe it up the less chance there is for leakage.
In the two and a half years I've owned this change station I've only had two accidents where this change pad has leaked. For me the pros (large size, easy to wipe clean, folds one-handed) far outweigh the cons.
But if you are concerned about this change pad, then you can buy a Kushies change pad to use with it. These changing pads won't leak and come in great colors and designs that will compliment nicely with the JJ Cole change station.
Using Your JJ Cole Portable Diaper Station After Potty Training
One of the great things about the JJ Cole diaper organizer is that it's still useful even after your child has been potty trained. Don't feel like you have to get rid of it just because it was designed to hold diapers.
You can re-purpose it as your media console holding the tv remote, magazines and a few choice DVDs. Or it could become an art caddy for your child. If you're trying to keep your living room tidy then you could use it to hold puzzles, games and a few of your child's favorite toys.
If you have another baby then it can return it to its original use.
Buy the JJ Cole Diaper Caddy for Yourself or as a Baby Shower Gift
As I've previously mentioned, I've bought this diaper organizer for myself and it's one of my favorite baby shower gifts to buy for friends. The JJ Cole diaper and wipes caddy comes in four fabulous colors: cocoa, green, blue and pink.
JJ Cole Collections Diaper Caddy, Cocoa Stripe

When choosing what color to buy think about how it will look in your home. The cocoa stripe is a nice neutral color that will look great anywhere. The green is my favorite and really brightens up my living room. You could do blue for boys and pink for girls, but you don't have to be limited by that either. Even if you're having a girl, if your house has lots of blue accents then go for the blue. It will look gorgeous.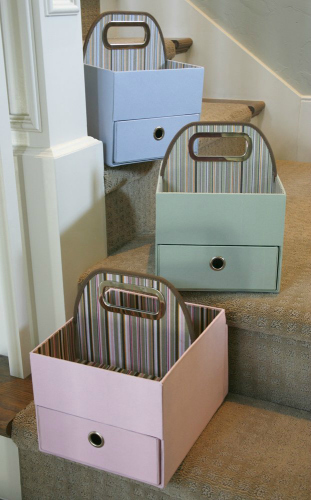 Check it out in blue, pink or green.
If you have any questions about the JJ Cole diaper organizer please feel free to leave a comment.
All photos, except for Amazon product images, by Isle of Baby.