Mardi Gras is approaching quickly this year and it's time to think about finding cute Mardi Gras baby clothes so your little one can join in on the fun.
Mardi Gras, also called Fat Tuesday, falls on February 17, 2015. The official colors are gold (representing power), green (representing faith) and purple (representing justice). It's a family celebration so if you're heading to New Orleans bring the kids. They will have so much fun watching the parades, seeing all the vibrant and opulent costumes, and catching beads and toys.
Be sure to dress them up so they can enjoy the experience to the fullest. You can either buy a costume or find themed clothing with all the Mardi Gras colors.
Mardi Gras Tutu Set for Baby and Toddler Girls
Mardi Gras Princess Tutu Set for Baby and Toddler Girls – 3 Pieces
The Mardi Gras Jester tutu set by the Southern Swag Company is the cutest little outfit for little girls. The three piece set features all the Mardi Gras colors and includes a 100% cotton short sleeve onesie with ruffled neck and arms, purple bow at the neck and tragedy/comedy jesters on the front. The layered tutu is purple with a gold ribbon at the hem and giant green, purple and gold floral bow at the waist. The outfit comes with a matching purple headband with tri-color floral bow to match the bow on the tutu. Available in 6 month, 12 month, 18 month and 24 month sizes.
Mardi Gras Baby Clothes – Hat and Bodysuits
Mardi Gras Baby Clothes – Knotted Baby Hat
'It's Mardi Gras Time' Crown Baby Bodysuit


A Mardi Gras hat is a great addition to any Mardi Gras baby outfit. The knotted Mardi Gras baby hat is made with 100% cotton, is very soft and incorporates all the Mardi Gras colors. There is a sparkly and festive applique on the front. Available in a range of sizes including preemie, newborn as well as baby and toddler sizes up to 12 – 24 months.
The "It's Mardi Gras Time!" long sleeve baby bodysuit has festive writing as well as rich and vibrant Mardi Gras colors. The design features a royal crown and sparkly jewels. The onesie is made with 100% cotton, has snaps at the bottom and lap-style shoulders for easy dressing. The long sleeve bodysuit comes in six colors – black, grey, light blue (shown), light pink, raspberry and white. The short sleeve version is available in a larger variety of colors. Perfect for both boys and girls. Available in Newborn, 6 month, 12 month, 18 month and 24 month sizes.
New Orleans Mardi Gras Gator Playing the Sax Creeper

Mardi Gras Masquerade Mask Organic Baby Bodysuit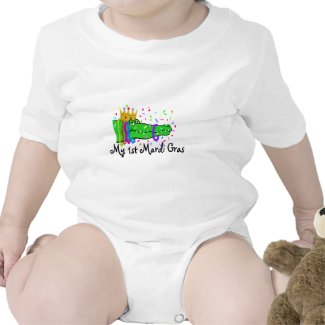 'My First Mardi Gras' Infant Onesie with Alligator and Beads

When looking for Mardi Gras baby clothes it's worth checking out the designs available from individual artists at Zazzle. There is a great selection of Mardi Gras themed baby clothes and the designs shown above are three of our favorites.
Once you find a design you like at Zazzle, then you can choose which style of clothing you want it on. For babies and toddlers there are cotton bodysuits as well as long and short sleeved t-shirts. Most designs are available in four colors – white, blue, pink or light grey, or there is an organic cotton baby bodysuit which is the natural cotton color.
Most designs can be customized so you can add your child's name, an inside joke or a fun quote. Baby and toddler clothing is available in 6 month, 12 month, 18 month and 24 month sizes. Bigger kids and adult clothing is also available if you want the whole family to match.
Show Me More Mardi Gras Baby Clothes at Zazzle
Featured Image: Mardi Gras – New Orleans, Public Domain Image from Pixabay
Updated: Jan 23, 2015.