Rice Krispie treats are a fun snack to make with kids and with Valentine's Day around the corner I thought it would be fun to make some strawberry Valentine Rice Krispie treats. A lot of the time you'll see these made with packages of strawberry Jell-o, which certainly saves time, but it doesn't compare to the real thing. This recipe uses real strawberries and a little bit of food coloring for an added boost to the natural coloring.
Rice Krispie treats are lots of fun for kids of all ages to decorate. You can keep it simple and toss festive sprinkles on top (as we have done here – what kid doesn't love to throw some sprinkles around?) or you can get fancy and drizzle melted chocolate over them.
Now that my daughter is three she gets a little more involved in the process. If she's having a 'good listening day' then I let her sit on the counter beside the stove and add ingredients and help stir. But if she's not listening or gets too close to the stove then it's back to decorating only.
We hope you and your little ones have as much fun making these as we did 🙂
Real Strawberry Rice Krispie Treats Recipe
This recipe has been adapted from my chocolate rice krispie treats recipe and my absolute favorite real strawberry buttercream recipe.
The first thing you need to do is make strawberry sauce. Take your 1 cup of chopped strawberries and puree in a blender until smooth. Add the strawberry puree to a saucepan and bring to a boil. Reduce to medium heat and stir frequently to prevent sticking. You want this puree to reduce by about half which will take about 20 minutes. I usually end up turning it down gradually as it reduces so it doesn't burn. Once you have your reduction you can remove it from the heat and allow it to cool slightly. It doesn't need to cool completely since you're going to heat it back up again but it will thicken slightly as it cools.
Now you can grease a baking dish and set aside. The size of dish you choose will ultimately decide how many Rice Krispie squares you end up with. An 8″ x 8″ dish will make 9 thick squares, an 8″ x 11″ will make 15 squares and a 9″ x 13″ will make about 24 thin squares. If you plan to use a cookie cutter to cut out hearts then I recommend using the 9 x 13″ dish.
Next, add your butter to a pot and melt over medium-low heat. I find it's best to take a little bit longer and work over medium-low heat so as not to burn the delicate ingredients. Once the butter is melted you can add the vanilla extract, strawberry sauce and mini marshmallows. Stir frequently until everything is melted and combined.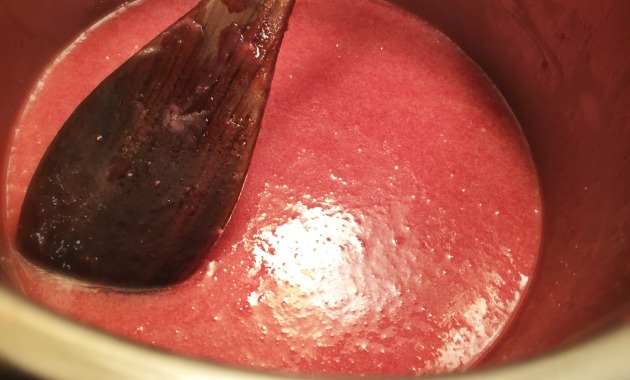 If you like you can add some food coloring at this point to give the natural colors a boost. This picture shows what the mixture looks like with three drops of red liquid food coloring. Keep in mind that when the Rice Krispies are added this color will appear much more pale. So if you have your heart set on bright pink or red Rice Krispie treats then you will need to make your mixture much darker. For best results I would suggest using gel food coloring such as those by Wilton or Americolor to give an intense color without thinning out your mixture.
After you've got your colors sorted out then you can remove from the heat and stir in the Rice Krispies. Pour into your greased baking dish and spread out with your spoon. Then you can grease your hands (so they don't get all gooey) and press the Rice Krispie mixture down into the pan.
Now you can unleash the sprinkles and you and your kids can have fun decorating.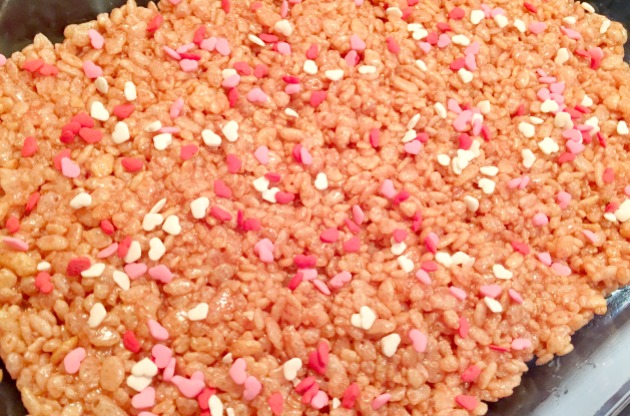 Cover the baking dish and let set in the fridge for about an hour before cutting into squares.
Dig in and enjoy! Happy Valentine's Day!

Real Strawberry Valentine Rice Krispie Treats
Cute & tasty Rice Krispie treats made from fresh strawberries. They may take a little bit longer to make but are so worth it!
Ingredients
Strawberry Sauce
1 cup fresh strawberries, chopped
Real Strawberry Rice Krispie Treats
¼ cup butter
5 - ¼ cup mini marshmallows
1 teaspoon vanilla extract
4 tablespoons strawberry sauce (above)
6 cups Rice Krispies
Food coloring (optional)
Instructions
Strawberry Sauce
Add one cup of chopped strawberries to your blender and blend until smooth.
Heat the strawberry puree in a pot over medium heat until it comes to a boil.
Turn down slightly and continue to gently boil until the puree has reduced by half, approximately 20 minutes. Stir frequently so it doesn't stick to the bottom.
Remove from heat and allow to cool slightly.
Real Strawberry Rice Krispie Treats
Grease a baking dish* and set aside.
Heat butter over medium-low heat until melted (it's best to work slower at a lower temperature to avoid burning the ingredients).
Add the vanilla extract, strawberry sauce and mini marshmallows. Stir often to make sure the mixture doesn't stick to the bottom. Add in food coloring to achieve desired color. Please note that the color will appear much lighter once mixed in with the Rice Krispies so make it a few shades darker.
Once all the marshmallows are melted and everything is completely mixed together you can remove from the heat and add in the Rice Krispies. Stir until completely coated.
Pour the mixture into your baking dish and spread it out evenly with your mixing spoon.
Grease your hands (so they won't get all gooey) and press the mixture down into the baking dish. Decorate with sprinkles.
Cover and let set in the fridge for an hour. Cut into squares and serve.
Notes
*The number of squares you will get depends on the size of baking dish you use. An 8" x 8" dish will make 9 generous squares. An 8" x 11" dish will make about 15 decent squares. A 9" x 13" dish will yield 24 thin squares.