A healthy hot chocolate recipe can be just the thing on a cold winter day. When you've been out playing with your kids in the snow it can be challenging to get them to come inside. Promising a cup of hot chocolate is a very effective motivator. But lots of hot chocolate recipes are filled with refined sugar, something kids get too much of these days. If you're looking for a guilt-free healthy hot chocolate recipe then you'll love our creamy recipe that's free of refined sugar.  
This healthy hot chocolate recipe uses almond milk which is perfect for kids with dairy sensitivities.  But, you could just as easily substitute milk or your favorite dairy alternative. We love almond milk because it's delicious, creamy, a good source of calcium and it also has iron and Vitamin E. Parents who are counting their calories will love that it has 1/3 the calories of 2% milk. But you'll want to make sure you're using an unsweetened almond milk. We use Blue Diamond Original unsweetened almond milk.
To make this a truly healthy hot chocolate, instead of refined sugar we've used pure maple syrup. Maple syrup is rich in antioxidants, zinc and manganese and makes an excellent natural sweetener. We've used medium maple syrup, which lends just the right amount of sweetness without overpowering the cocoa, but you could use light or dark, or you could also substitute honey or stevia if you prefer. Steer clear of processed 'maple syrup' that consists mostly of corn syrup and refined sugar.
The following recipe makes the perfect amount for one adult and one child. You can easily double this recipe for two adults and two children.

Sugar Free Healthy Hot Chocolate Recipe
A creamy, delicious (and guilt-free!) hot chocolate recipe for the whole family.
Ingredients
1½ cups unsweetened almond milk
2 tbsp unsweetened baking cocoa
2 tbsp pure maple syrup
¼ - ½ tsp vanilla extract
Instructions
Add the ingredients to a small pot. Whisk over medium heat until cocoa is thoroughly blended and desired temperature is reached.
Notes
Check the temperature before giving to children. If the hot chocolate is too hot then cool in the refrigerator before serving.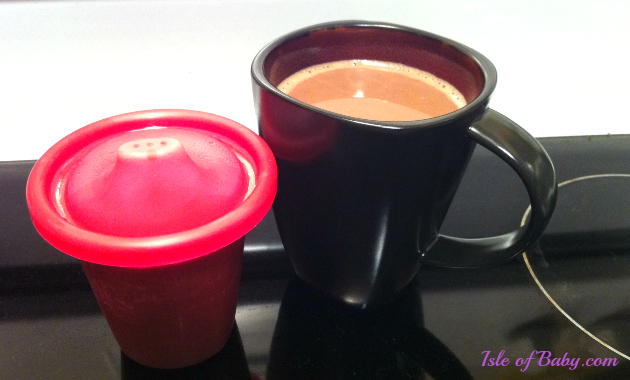 Good to the last drop. My daughter will chug this down in ten seconds flat and then ask for more.
Photos: All images by Isle of Baby.