Getting toddlers to eat their veggies can be a challenge. They can be very picky eaters and meal times can easily turn into a battle of wills. In order to save your sanity it's sometimes easier to go with the flow and offer a healthy alternative.
This toddler smoothie recipe is one of my daughter's favorites. It makes me so happy when she asks for it because I know she's getting a tasty treat full of healthy ingredients.
Healthy Ingredients for the Toddler Smoothie
Mixed berries (raspberries, blackberries and blueberries) are a great base for hiding vegetables because of their intense flavor. But they are also super healthy for your child. Berries are high in dietary fiber and vitamin C, rich in anti-oxidants, and a good source of other minerals including potassium and manganese.
Spinach is an amazing vegetable that is an excellent source of vitamin K, vitamin A, vitamin C, as well as many B vitamins, magnesium, iron, calcium and potassium. It's also high in dietary fiber and great for boosting the immune system. Spinach contains a compound called oxalic acid which blocks the body's absorption of iron and calcium. Pairing spinach with foods high in vitamin C helps neutralize the oxalic acid so this smoothie recipe is ideal for your toddler.
Raw cocoa powder is another great way to mask the taste of spinach. It's full of antioxidants and gives the smoothie an appealing chocolate-y flavor.  As long as it's unsweetened I consider cocoa to be a spice.
Honey is included for sweetness because the berries can be a bit tart.  To be honest, I just use a general run-of-the-mill liquid honey but if you're being extra healthy then you could use bio-active Manuka honey, a type of honey from New Zealand that is known for its health properties. You could also use maple syrup, stevia or xylitol.
Making the Hidden Spinach Berry Smoothie
I use frozen berries when making this smoothie. If you're using fresh berries you can add a couple of ice cubes to achieve the smoothie consistency. I use the Magic Bullet but any blender will do.
Add all the ingredients into the blender and blend until smooth. Add a tablespoon or two of water to thin out the smoothie if it's too thick.
Because this tends to clog up the sippy cup I serve this in a toddler drinking cup with a handle. I use both an art smock and a bib on my little girl because accidents do occur. But it's all part of the fun and part of the experience 🙂

Toddler Smoothie Recipe: Mixed Berries with Hidden Spinach
It can be challenging to get your child to eat vegetables. This smoothie is a delicious treat that hides a healthy serving of spinach.
Ingredients
½ c mixed berries
¾ c almond milk
4 - 5 spinach leaves
1 tsp unsweetened cocoa powder
1 - 2 tsp honey
Instructions
Add all ingredients to a blender.
Blend until smooth.
If the smoothie is still too thick you can add water 1 tbsp at a time until the desired consistency is achieved.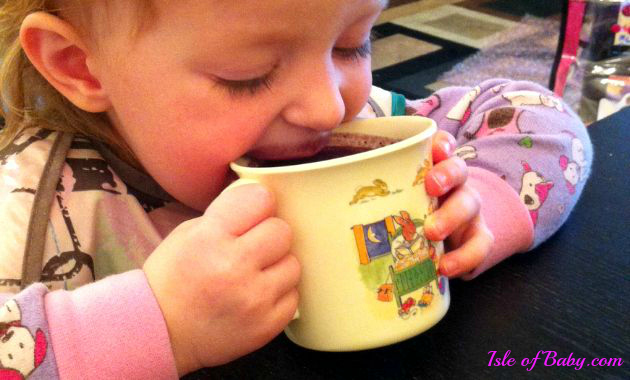 Total enjoyment. No time to smile for the camera.
Photos: Hidden Spinach Smoothie for Toddlers, all images by Isle of Baby