Baby Easter outfits are a cute way to celebrate Easter with your kids. If you have an Easter baby, then they will most definitely be too small to take part in the Easter egg hunt and to eat chocolate eggs. But you can dress them up in adorable clothing covered with chicks, eggs or bunnies.
Toddlers will be super excited to hunt for eggs all dressed up in an Easter outfit. An Easter bunny costume would be especially thrilling. You could also buy cute Easter bunny pajamas to help them count down the sleeps until Easter.
On this page you'll find an adorable selection of baby Easter outfits for infants ranging from newborns through toddlers sized 4T. You'll also find some fun facts about Easter and its traditional symbols.
Happy Easter!
Cute Easter Bunny Accessories for Babies
Fluffy White Bunny Baby Easter Hat
White Easter Bunny Slippers for Babies
Adding a cute Easter bunny hat and slippers instantly transforms any baby outfit in to an Easter outfit. The fleece bunny hat with floppy ears by Bunnies by the Bay is super cute for Easter. Fits babies 6 – 12 months.
The fluffy 'Cuddle Toe' bunny slippers with a soft knitted lining would make a wonderful Easter gift. This set is available for babies 3 – 6 months and 6 – 12 months and comes in a cute little gift box. 
Bunnies by the Bay Baby Easter Bunny Coat
A bunny rabbit coat is a very cute idea for Easter and for wear during spring. The original Cuddle Coat by Bunnies by the Bay is a lightweight coat made with white faux fur with a pink satin lining and ribbon bow closure. "My Cuddle Coat" is embroidered on the lining and two cute little carrots are embroidered on the bow. The attached hood has a pair of adorable bunny ears accented with pink satin. Machine washable.
Available for baby girls 3 – 6 months and 6 – 12 months. The sizing with this coat is large so you can be assured to get a lot of wear out of it.

See some more really cute baby Easter coats for girls. You may also want to check out the fun Easter bunny pajamas.
---
The Easter Bunny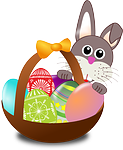 The bunny rabbit or hare has been a pagan symbol of spring for a long time because they are a great symbol of fertility. In fact, hares can become pregnant with a second litter of babies while already pregnant. The rabbit became a popular motif in medieval Christian church art and it was once believed that a hare could become pregnant without losing its virginity. This created a close association between rabbits and the Virgin Mary. Because eggs are a symbol of rebirth, by the 18th century the idea of an egg-laying Easter bunny was born. At this time children were told to make a nest in their bonnets and if they had been good then the Easter bunny would lay eggs for them. Nowadays kids eagerly await the Easter bunny who lays colorful foil-wrapped chocolate Easter eggs in the garden.
---
Bunny Themed Baby Easter Outfits
Blue Pinstripe with Bunny Baby Easter Outfit for Boys
Little Guys has an adorable pinstripe bunny overall set for baby boys that would be perfect for Easter. This two piece set includes a white onesie with blue and white pinstripe collar and a pair of matching overall shorts. There is a blue pocket on the front with a bunny rabbit. Available for baby boys in 3 – 6 month and 6 – 9 month sizes.

See more bunny themed Easter outfits for baby boys.
Toddler Girls Easter Bunny Capri Outfit
The Rare Editions bunny capri set is an adorable Easter outfit for toddler girls. The matching top and pants are made with turquoise seersucker check print and have a multi-color polka dotted ruffle trim that is super cute for Easter. The top has a fun Easter bunny applique and the ears have polka dots to match the ruffles. Available in 2T, 4T, 4, 5, 6 and 6X sizes.

See some more really cute Easter outfits for toddler girls.
Easter Bunny Costumes for Infants
Baby Bunny Costume for Easter – Cape, Mittens, Booties
A bunny costume makes a super cute baby Easter outfit. The Lil' Bunny infant costume is a three piece costume for babies. The pink and white cape has a carrot at the neck and an attached hood with floppy bunny ears (if you want the ears to stand up like in the photo you'll have to 'MacGyver' them a little bit – threading some stiff wire through the inside of the fabric should do the trick). The costume also comes with a pair of bunny mittens and a pair of fluffy bunny booties with non-skid soles. The outfit doesn't include the pink onesie shown in the photo. This cute bunny costume fits babies 6 – 12 months.
See more Easter bunny costumes for newborns, babies and toddlers.
---
Little Chicks and Easter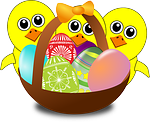 Eggs are a symbol of fertility and new life. Chicken eggs are most closely associated with Easter so naturally the tiny chicks that emerge from these eggs have become a symbol of this new life. They are very cute as well which also makes them a popular symbol of Easter. At one time it was quite popular to give a chick as an Easter present. This practice is actively discouraged these days because chicks grow up quickly into chickens, they require special care and they can live a long time. They are definitely not an appropriate gift to give on a whim. It's much better to give chocolate and candy chicks, and of course baby Easter outfits featuring baby chicks.
---
Chick Themed Baby Easter Outfits
Colorful Newborn Baby Girl Easter Chicks Onesies – 3 Pack
"Chicks Are All Over Me" Funny Easter Onesie for Baby Boys
Chick onesies are a cute idea for baby Easter outfits. Lamaze has a three-pack of chick bodysuits that would be perfect for baby girls. The set includes a bright pink onesie with blue trim and a blue and pink Easter chick on the front, a white onesie with pink trim and multi-colored chicks all over, and a blue onesie with pink trim and the word 'cutie' on the front. The cotton onesies have lap-style shoulders and snaps at the bottom for easy dressing. Available for newborn babies.
The 'Chicks are All Over Me' bodysuit is a funny Easter onesie for baby boys. Just like it says this blue onesie is covered with Easter chicks. Available in 0 – 3 month, 3 – 6 month, 6 – 12 month, 12 – 18 month and 18 – 24 month sizes.
Easter Chick Dress for Toddler Girls by Mud Pie
Mud Pie's Easter chick dress is really cute. The outfit is soft blue and white which is perfect for Easter. The sleeveless dress has ruffles at the neck and there are adorable chick appliques at the pockets. Available for toddler girls in 2T, 3T, 4T and 5. Please note that Mud Pie sizes do tend to run small.

You may also want to check out the adorable selection of bunny and chick themed baby Easter outfits for girls and pretty Easter dresses for toddler girls.
---
Painted Eggs for Easter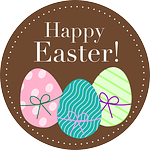 With the egg representing fertility and new life it's not surprising that the practice of decorating eggs dates back a long time. The earliest recorded findings of decorated eggs are 60,000 year-old ostrich eggs that were discovered in Africa. In Christianity Easter eggs represent the resurrection and the Church officially declared them a part of Easter in 1610. Hard-boiled chicken eggs were traditionally dyed red to represent the blood of Christ. Over the years the eggs were dyed or painted in more cheery pastel colors and have taken on a less somber connotation. Although in many homes eggs are still decorated today, it's definitely a modern custom to replace the painted Easter eggs with chocolate eggs or colorful jelly beans. Finding Easter eggs and jelly beans hidden in the garden is an exciting part of Easter that kids look forward to every year.
---
Easter Egg Clothes for Babies and Toddlers
'It's My First Easter' Onesie with Bunny and Painted Egg
An 'It's My First Easter' onesie is a cute option for your baby's first Easter. This design has an adorable baby Easter bunny holding a large painted Easter egg. This bodysuit is made with 100% cotton for baby's comfort, has lap-style shoulders for easy dressing and snaps at the bottom for quick diaper changes.  Available in Petal Pink (shown), Sky Blue, Kiwi and Cloud White. For babies 0 – 3 months, 3 – 6 months, 6 – 12 months, 12 – 18 months and 18 – 24 months. 
Easter Egg and Chick Tutu Set for Infant Girls
An Easter egg tutu dress is a very cute Easter outfit for your baby girl. This two piece set by Bonnie Baby includes a yellow bodice with rhinestone accents and a painted Easter egg applique with a baby chick peering out, a coral mesh tutu with lime green and yellow ruffles and a matching pair of coral polka dotted capri leggings. Available for baby and toddler girls in 12 month, 18 month and 24 month sizes.
Easter Dresses for Girls and Easter Suits for Boys
Bonnie Jean Aqua Lace Easter Dress for Toddler Girls
5pc Easter Suit with Vest and Hat for Baby and Toddler Boys
If you're looking for more formal baby Easter outfits then there is a great selection of cute little dresses for girls and darling little suits for boys. 
The Bonnie Jean aqua lace dress is beautiful and the pastel aqua color is perfect for Easter. This dress could easily be worn again during the summer if you have a wedding to attend and it would also make a very cute birthday dress. The lace dress is sleeveless, has a zipper closure up the back and a sash with a large aqua bow. Available in sizes 2T, 3T and 4T.
Just Darling has a gorgeous little five piece suit set for babies and toddler boys that would be ideal for Easter and any other formal occasion you may have throughout the year. The set includes a white buttoned dress shirt, a vest with two buttons, a bow tie, newsboy cap and a pair of knicker shorts. Available for babies from 6 months through 24 months and toddlers from 2T through 4T. According to customer reviews this outfit runs small. Definitely order a size up and if you want your son to wear it later in the summer then order two sizes up so he has room to grow.
Check out more infant and toddler girls Easter dresses and Easter suits for boys.
Featured Image: Easter Eggs, Public Domain Image from Pixabay
Other Images: (all Public Domain Images from Pixabay)
Easter Bunny
Easter Chicks
Easter Eggs
Updated: February 5, 2015