The Tuffo Muddy Buddy rain suit is a great option for parents looking to keep their kids dry during rain, sleet and snow. Tuffo Muddy Buddy rain gear is lightweight, easy to put on and durable. Best of all, it does a bang up job of keeping your little one dry no matter what they get up to.
I recently purchased this one piece rain suit and couldn't be happier. So, I'd like to do an in depth review and show you what's so great about Muddy Buddy coveralls.
We live on the West Coast and get a lot of rain. It's not too cold during the winter and we don't get very much snow so it didn't make sense to buy a snowsuit. We bought the Tuffo Muddy Buddy rain suit and it's performing double duty this winter as both a rain suit and a snow suit.
Features of the Tuffo Muddy Buddy Rain Suit
The Muddy Buddy rain suit is a light-weight one piece outer shell that fits over your child's outdoor clothing and seals out the elements.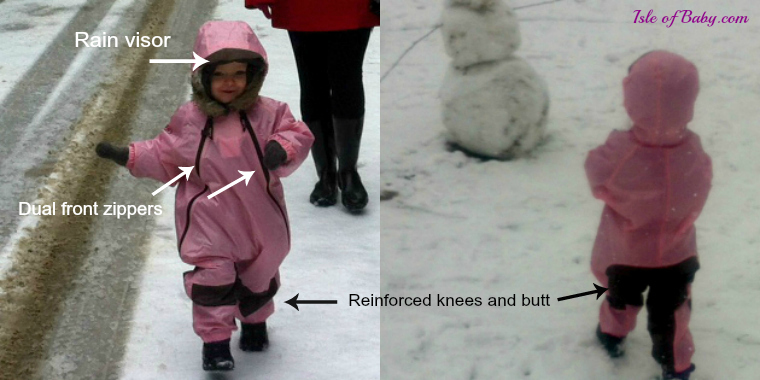 The dual front zippers make it really easy to put on and take off. The hood is elasticized around the edges to ensure a snug fit and there is a rain visor to help shield the rain. The ankles and wrists are also elasticized so they fit snugly.
The rainsuit is made from 70-denier nylon with a polyurethane coating and the knees and bum are reinforced with extra heavyweight nylon fabric. All of the seams are sealed so they are completely waterproof.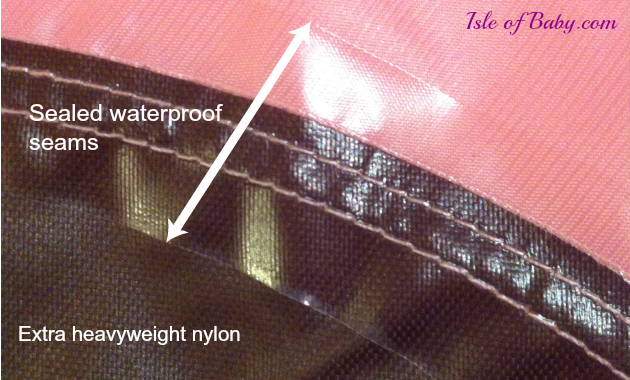 The Muddy Buddy rain suit lives up to expectations beautifully. After hours of playing in the snow building snowmen, sledding and throwing snowballs she was completely dry underneath.
Tuffo Muddy Buddy Rain Gear Sizing
The Tuffo Muddy Buddy rain suit is available in 12 month, 18 month, 2T, 3T, 4T and 5T sizing. It is designed to be worn over outdoor clothing so it does run large. But you can be assured to fit layers of clothing and a winter coat underneath when the temperature drops.
We're hoping to get more than one season out of this rain suit so we ordered a 3T for our 2 year old. She's 2 years, 4 months in these photos and she's a tall and slender toddler. She looks like a little pink marshmallow but we've fit a 3/4 length puffer jacket underneath with room to spare. There's plenty of length left over along the arms and legs so she's got room to grow. Because the wrists and ankles are elasticized the extra length isn't a big deal and doesn't affect her movement.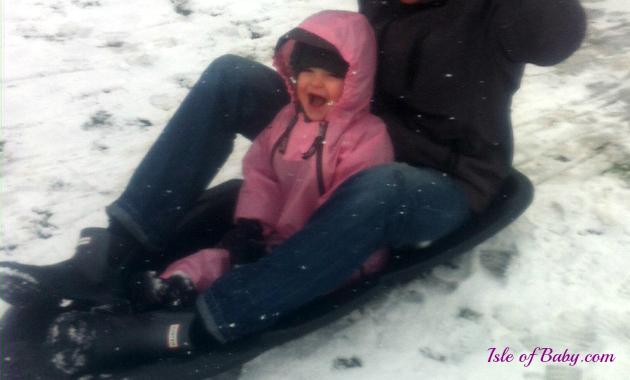 The Muddy Buddy One Piece Rainsuit Comes in Three Colors
The Muddy Buddy rain suit is perfect for boys and girls and comes in a choice of three colors. Both the blue and yellow suits have dark blue seams and reinforced fabric. The pink suit has brown seams and reinforced fabric.
All Muddy Buddy rain suits fold easily and can be stowed away with the handy zippered carry pouch that is included. This makes it really easy to tuck away into a backpack or diaper bag when you're on the go.
Featured Image: Tuffo Muddy Buddy Rain Suit, Pink (3T), photo by Isle of Baby
All other photos (except for Amazon photos) by Isle of Baby