When you're expecting your first baby there is so much to learn and so many things to prepare. At times it may feel a little overwhelming and you may wonder if you'll ever get everything ready in time.
If you're wondering what to put in a diaper bag we've got some tips and pointers for you. Start out with these basics and then adapt your bag contents as you get your routine in place and get to know your new baby.
Diapers: The most important thing in your diaper bag is of course the diapers. But how many do you need? That will depend on how long you intend to be out and about. Bear in mind that a newborn will go through ten to fifteen diapers in a 24 hour period. As your baby grows you will eventually be changing a diaper every two to three hours during the day and will go through one or two diapers at night. So plan according to your time frame and add a few extra for unexpected surprises.
Wipes: You'll need to buy a travel wipes case to fit in your bag. You can either get a fun and funky novelty case or buy a plain one such as the Huggies brand travel wipes. You can easily refill this case instead of buying a new one each time (both the Huggies and Pampers travel cases come with only twelve wipes but you can repack it with at least twenty).
Diaper Cream: Protecting your baby's bottom is an important part of every diaper change so be sure to pack your favorite diaper rash cream. Some brands will sell a travel size that is perfect for diaper bags. Otherwise consider packing a half used tube from your main diaper station to help keep the weight down and so the cream doesn't expire before you get a chance to use it all.
Plastic Bags: You'll want to have a few plastic bags so you can wrap up soiled clothes and keep them separate until they can be washed. If there's no garbage nearby then you can use a plastic bag for soiled diapers until you can throw them out.
Hand Sanitizer: Hand washing is another important aspect of a diaper change. Keeping a bottle of hand sanitizer on hand is a great idea for use when you don't have access to soap and water. For instance, you may be changing a diaper in the backseat of your car or at the park. Hand sanitizer is also essential for cleaning hands after you've been shopping, especially if baby has been riding in the shopping cart.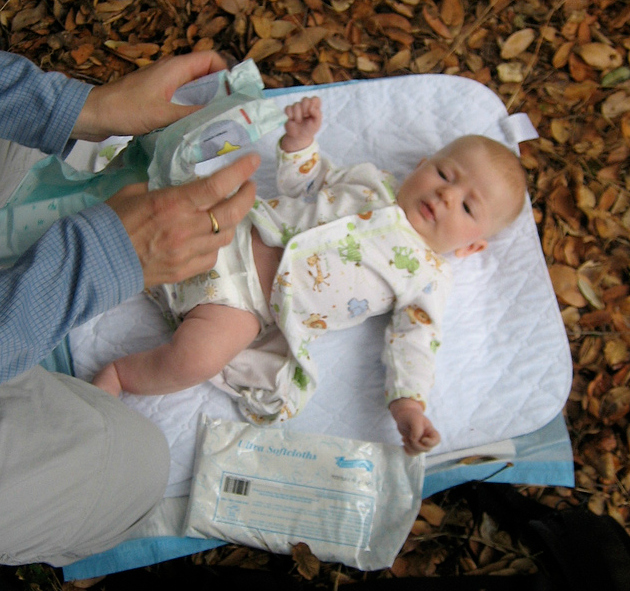 Baby Bibs: You can never have too many bibs when your baby is young. Teething babies tend to drool a lot and for the first six months babies are known for frequent spit-up.
Extra Clothing: Plan to always have at least one change of clothes for your baby, two or three if you'll be out all day. You just never know how much they may spit up or if they will have a diaper explosion. If your baby is prone to frequent spit-up, then you may want to pack an extra shirt for yourself.
Receiving Blankets: A versatile thing to have on hand, receiving blankets can be used to keep baby warm, can shield you when breastfeeding, can help keep your clothes clean during feedings and can be used to cover the car seat when baby is napping. You'll want to pack two or three.
Pacifier: A pacifier can work wonders to keep baby calm when riding in the car or to help soothe your baby to sleep. It's a great idea to keep a soother in your diaper bag so you always have it handy.
Toys: Having a small toy in your bag can be great to occupy an uncooperative baby so you can get on with the diaper change. Babies can also get bored so having a toy handy will buy you some extra time so you can complete your grocery shopping or finish your lunch.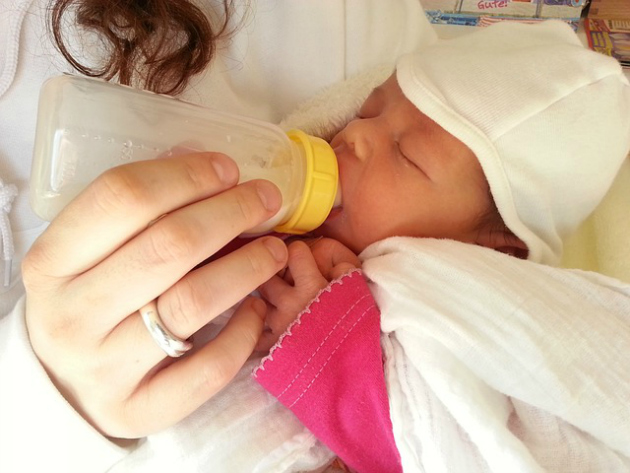 Nursing Gear: If you're breastfeeding your baby then you'll want to pack extra nursing pads and a tube of Lansinoh cream.
Bottles: If your baby is formula fed then be sure to pack enough formula and bottles for your outing.
Healthy Snack for Mom: Taking care of a newborn is hungry work and it is so easy to forget about yourself. But one of the best ways to take care of your child is to take care of yourself so you'll have the energy you need. Be sure to always pack a healthy snack that you can eat easily while one-handed and on the go. This could be a granola bar, a bag of trail mix, chopped veggies or even a sandwich that you've prepared ahead of time.
BONUS TIP:
Repack your diaper bag as soon as you get home since you may forget later. It's also good practice to take a quick peak inside your bag before you leave the house just to be sure you have everything you need. And, of course, be sure to double check that you have the diaper bag with you when you leave.
Photo Credits:
Featured Image: Diaper Bag Contents by koalazymonkey, used under CC 2.0
Wilderness Diaper Change by Jeff Boulter, used under CC 2.o
Baby Bottle Time, Public Domain Image from Pixabay